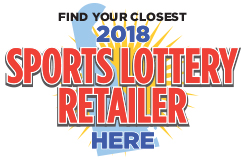 Please Note
"For" includes the amount wagered.
"To" does not include the

amount wagered.

For example: 20 for 1 is 19 to 1;
a $25 wager is:

$25x19=$475.
Point Spread Basics
If there is a plus next to the team you selected - add those points to the final score for your team.
If there is a minus next to the team you selected - subtract those points from the final score for your team.
ASK for a QUICK PICK
Not sure what selections to play? Just ask your Retailer for a full or partial quick pick. Quick pick is available for all selections or for teams only. The Lottery will generate a ticket with random selections.
TBD line or other updates
Wagers
---
**NOTE: if you do not see the Parlay Cards or TBD Line Updates, please refresh your browser.
Additional wagers:
Off-the-Board Parlays
In Off-the-Board Parlays, the point spreads may fluctuate from the opening line. Players can parlay from three to eight teams and receive payoffs ranging from 11 to 2 to 160 to 1. There is a $5 minimum bet on Off-the-Board Parlays.

Off-the-Board Teasers
The players can select 6, 6 1/2, 7 and 10-point Teasers. A Teaser allows the player to add extra points to an underdog's point spread or subtract points on a favored team.

Halftime Wagers
For halftime wagers, point spreads apply to the final score of the game and not to second half scoring alone.

Off-the-Board Odds

*Delaware Lottery Sportsbook and Sports Lottery Retailer Wagering Rules apply to parlay cards unless otherwise stipulated on the cards. The Delaware Lottery reserves the right to add, delete, or change its Wagering Rules and/or payoff odds at any time.