Where the Money Goes
We're all winners!

The Delaware Lottery Mission
The Delaware Lottery's History: A Timeline

See even more about the Lottery!
View this brief video clip to get the Lottery story.


The Delaware Lottery contributes its profits to the State General Fund. Since 1975, $6.0 billion has been transferred to the General Fund from Lottery proceeds. In fiscal year 2022, the Lottery's contribution was $236.0 Million. The Delaware Lottery remains the 5
th
largest source of revenue for the state of Delaware.
The General Fund is the pool of dollars that finances the majority of state services in Delaware, including:
Public and higher education
Health and social services
Public safety
Judicial and corrections
Child, youth and family services
Natural resources and environmental control
The Lottery's contributions to the General Fund help to pay for vital state services that would otherwise require funding through additional tax dollars. That's why all of us — everyone who lives in, works in or visits Delaware — are winners with the Lottery!
The Delaware Lottery operates as a business and funds its own operations. It conducts market research, pays salaries to employees and offers commissions and bonuses to the licensed Retailers who sell Lottery tickets throughout the state.
How revenue from the sale of traditional Lottery game tickets is distributed:
The Lottery returns the largest share of its ticket proceeds (50% or more) to winning players in the form of prizes.
As required by law, the Lottery endeavors to provide 30% or more of all Lottery ticket revenue to the General Fund to help pay for state services.
Approximately 10% of Lottery ticket revenue is paid in commissions and bonuses to the over 600 participating traditional Delaware Lottery Retailers, business operators throughout the state who are licensed to sell Lottery tickets. Part of this money also pays for the cost of producing Instant Game tickets and operating the computer system used to sell Drawing game tickets.
The smallest amount, less than 5% of Lottery Drawing and Instant Game sales, pays for the administrative expenses of operating the Lottery Office and promoting the traditional games.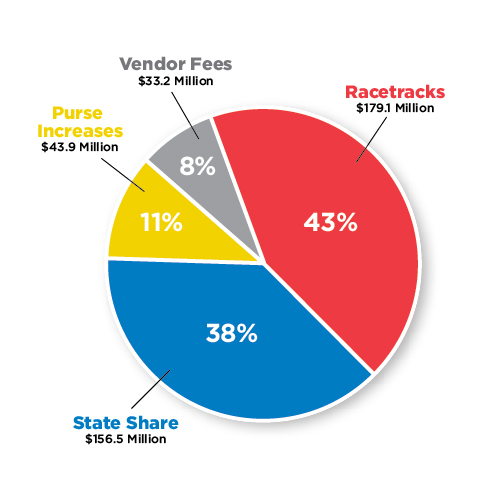 The Delaware Lottery Mission
To maximize revenue contributions to the State's General Fund, thereby helping to fund the delivery of governmental services to the people of Delaware.
We will do this through the marketing, sale and distribution of innovative, entertaining and secure Lottery products that ensure the public's confidence in the integrity of the games, Retailers, Agents and Lottery operations.
We will do this by providing leadership and a corporate culture that encourages productive change leading to improvement in every aspect of the business.
Updated January 2020