2017 Press Releases
February 7, 2017
(DOVER, DE) — All aboard the POWERBALL® Power Cruise™! Starting Wednesday, February 8 through Saturday, March 25, Delaware Lottery players will have a chance to enter the first-ever POWERBALL® Power Cruise contest. The POWERBALL® Power Cruise is a privately chartered five-night cruise on Royal Caribbean International's adventure-packed ship, Brilliance of the Seas. Departing from Tampa, Florida, the ship will sail to Key West, Florida, and Cozumel, Mexico. The ship is scheduled to set sail in January 2018, giving trip winners plenty of time to plan for their vacations.
Players can enter the Power Cruise promotion by mailing non-winning POWERBALL® tickets to the Delaware Lottery PO Box (Power Cruise Second Chance, PO Box 319, Cheswold, Delaware 19936-0318). The Delaware Lottery will hold six prize drawings for the cruise packages, with six prizes awarded to players who enter with Delaware tickets.
"It only takes one ticket to win, and sometimes even a second chance can be a lucky one," said Vernon Kirk, Director of the Delaware Lottery. "We continually enhance and refine our promotions to offer different opportunities for players to become winners."
The Delaware Lottery is one of 25 U.S. lotteries that will be part of the Power Cruise campaign, which has chartered the entire Royal Caribbean ship exclusively for lottery trip winners from across the country.
Three of the cruise packages available to Delaware players will be for Balcony staterooms onboard the ship—one for Oceanview staterooms and two for Interior staterooms. Each vacation package for two includes coach airfare to Florida; a one-night hotel stay in Tampa the night before the cruise departs; ground transportation from the airport to the hotel and to the ship; a stateroom on the Power Cruise, with two ports of call; primary gratuities paid for the stateroom attendant and dining room staff on the ship; and transfers from the port to the airport when the cruise has concluded. Plus, every bundle offers a $250 credit to spend onboard the ship for bucket-list excursions on land; Royal Caribbean's Wi-Fi; VOOM, the fastest internet at sea; spa treatments; and specialty dining.
Once the Power Cruise sets sail, the excitement will really get going for the guests onboard. Two-hundred $500 cash prizes will be given away to registered trip winners on the ship. And on the last night, one lucky registered trip winner onboard will receive a $50,000 grand prize.
Power Cruisers will also be treated to VIP concerts featuring the rock group Goo Goo Dolls, rap artist Flo Rida and pop singer Macy Kate.
On Brilliance of the Seas, winners can set their own pace, whether in relaxation mode or seeking an active adventure. The award-winning ship's features include spacious accommodations, the cruise line's signature rock-climbing wall, an outdoor movie screen, miniature golf, a fitness center, pools and whirlpools, the popular Vitality Spa, and boutiques.
To enter the promotion, Delaware Lottery players must purchase POWERBALL® tickets between February 8 and March 25, and mail their non-winning POWERBALL® tickets to Power Cruise Second Chance, PO Box 319, Cheswold, Delaware 19936-0318.
The Delaware Lottery will hold six consecutive weekly promotional prize drawings beginning February 22. Here is the drawing schedule and the number of prizes that will be awarded: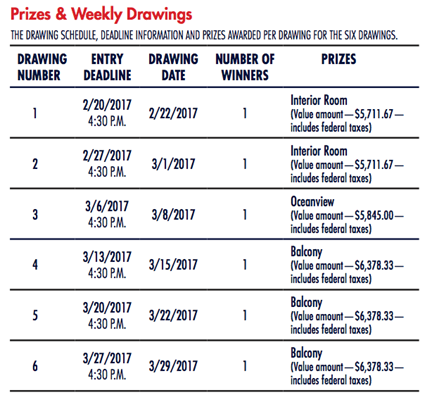 Power Cruise™ is a trademark of Alchemy 3, LLC. Used under license. ? Royal Caribbean International logo is a registered trademark of Royal Caribbean Cruises Ltd. and is used with permission. ©2017 Royal Caribbean Cruises Ltd.® ? POWERBALL® and Power Play® are federally registered trademarks and are used with permission of the Multi-State Lottery Association. All rights reserved.
Delaware State Lottery is a sponsor of the promotion.
About the Delaware Lottery:
Since the start of operations in 1975, the Delaware Lottery has contributed more than $4.1 billion to the state's General Fund to help finance needed state services that benefit everyone in Delaware. The Lottery offers a variety of games: POWERBALL®, MEGA MILLIONS®, HOT LOTTO®, MULTI-WIN LOTTO, DELAWARE CASH 5®, PLAY 3, PLAY 4, KENO®, iGaming and assorted Instant Games, Video Lottery, Sports Lottery and Table Games. Delaware Lottery game and promotional details are available at delottery.com, at licensed locations, and from the Lottery's office in Dover.
Winner Privacy is our Policy.
The Delaware Lottery only publishes winner names with their consent.