2019 Press Releases
December 05, 2019
Pennsylvania man wins big in Delaware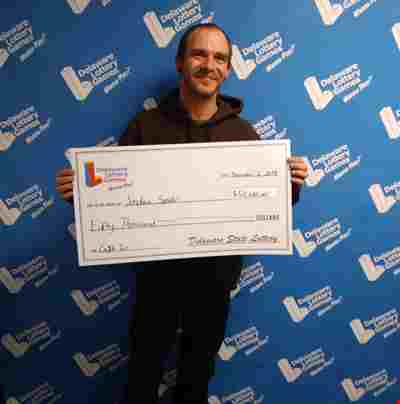 Dover, DE — Joshua Spahr is a 29-year-old Trainer, PA resident who has enjoyed playing instant games since he was 18. While visiting Wawa #867 on Naamans Road in Claymont, DE, Mr. Spahr purchased five CA$H IN Instant Game tickets, one of which ended up winning him one of the game's $50,000 top prizes.
"I didn't even realize I had such a big win when I first looked," Spahr said. "I thought I had won $50. When I looked closer, I was shocked to see I actually had won $50,000."
"It's always nice when we have a big winner," said Vernon Kirk, Director of the Delaware Lottery. "Especially during the holiday season."
When asked what he was planning to do with his winnings, Mr. Spahr said he wants to put a down payment on a new house for his family.
Mr. Spahr claimed his prize from Lottery Headquarters on December 3, 2019.
About the Delaware Lottery:
Since the start of operations in 1975, the Delaware Lottery has contributed nearly $5.2 billion to the state's General Fund to help finance needed state services that benefit everyone in Delaware. The Lottery offers a variety of games: POWERBALL®, MEGA MILLIONS®, LOTTO AMERICA®, MULTI-WIN LOTTO, LUCKY FOR LIFE®, PLAY 3, PLAY 4, Keno®, Sports Lottery and Instant Games, iGaming, Video Lottery and Table Games. Delaware Lottery game and promotional details are available at delottery.com, at licensed locations, and from the Lottery's office in Dover.
Winner Privacy is our Policy.
The Delaware Lottery only publishes winner names with their consent.