HOT LOTTO® Prize Chart
Play HOT LOTTO
®
and you could win a multimillion-dollar jackpot or set cash prize. Add Sizzler to triple your set cash prize!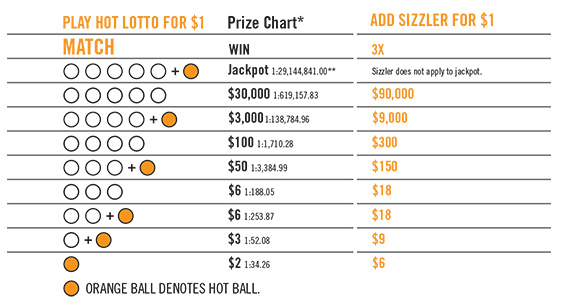 Overall odds of winning a prize are 1:17.22
*Subject to published HOT LOTTO
®
rules, the prize amounts may be modified.
**The Jackpot prize will be paid in cash only. The Jackpot prize will be divided equally among multiple winners.
The Delaware Lottery, the Multiple-State Lottery Association, and the Mega Millions Group may limit the amount of a top prize for certain games when specific conditions are met. In such an event, all money available for that prize level may be divided equally by the number of winning tickets for that prize level (pari-mutuel prize payment). See game pari-mutuel prize descriptions or contact the Lottery Office for details.