Prizes & Odds
MEGA MILLIONS® WITH MEGAPLIER®
Play MEGA MILLIONS® and you could win an estimated annuity jackpot starting at $40 million or a set cash prize. Add MEGAPLIER, for an additional $1, and if you win a set cash prize you could multiply that amount.
Here's what you can win when you play: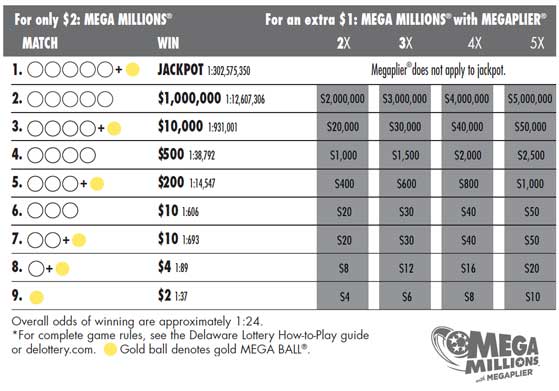 Prize chart effective as of October 28, 2017.
The Delaware Lottery, the Multiple-State Lottery Association, and the Mega Millions Group may limit the amount of a top prize for certain games when specific conditions are met. In such an event, all money available for that prize level may be divided equally by the number of winning tickets for that prize level (pari-mutuel prize payment). See game pari-mutuel prize descriptions or contact the Lottery Office for details.